As it sounds, Drei Häuser was a group of three houses between the canal bend and the Hollebeke Chateau. These were hidden from view of enemy artillery observers and remained intact as late as 1917. They were used for intermediate medical treatments for those who could survive further than the medical aid post in the reserve line.
Drei Häuser (left) had the inevitable graveyard to be found next to wartime medical aid posts. This remained until the early 1950s, when the bodies were moved to mass graves in Menin, the post WW2 German government being no longer able to afford their upkeep. From the air, a British camera captures a glimpse of this intricately laid out graveyard in early 1917, a few months before it was obliterated by shelling and fell between the front lines of early 1918:-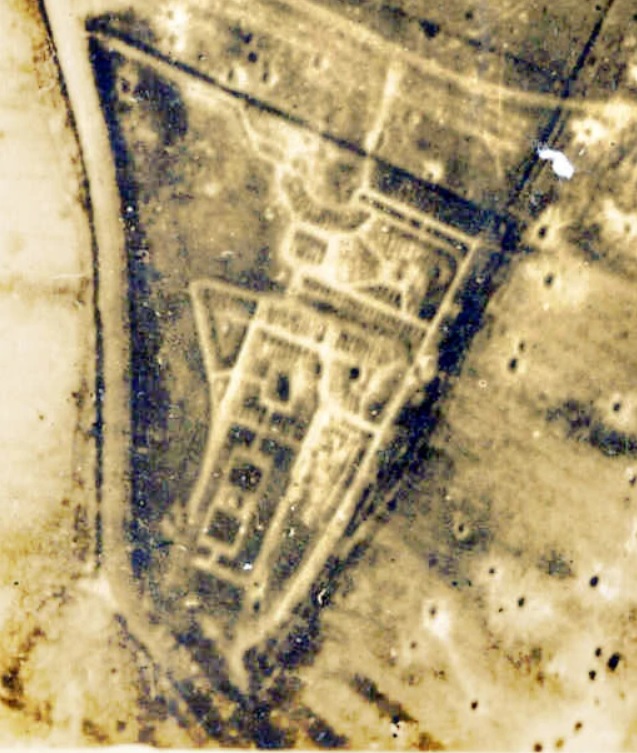 500 metres further south by the Hollebeke railway bridge, another medical facility was built in the shadow of the railway embankment. Sanitäter Unterstand housed the medical units which manned the facilities further up the road.
Sanitäter Unterstand, photo taken from a short diagonal road that has now been ploughed over. Behind the embankment, the bridge mechanism of the Hollebeke canal crossing can be seen. No trace of this large concrete structure remains.